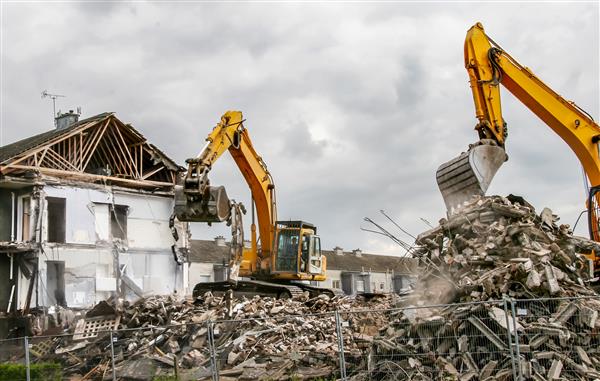 Omni Demolition: The #1 Residential House Demolition Company
A house demolition in Camden, NJ is in order when you notice large cracks and other signs of compromised structure. Consequently, it is always important that you hire only professional house demolition companies backed by many years of experience. At Omni Demolition, we take great pride in our residential demolition contractors who have been in this industry for several years. Without a doubt, we all need change somewhere in our lives. Hiring a demolition team is the best option if you want to spare yourself from all the trouble. Whether you call us for a full-scale mansion demolition or an easy mobile home demolition, rest assured you will receive our best services.
Home Demolition Techniques in Camden, NJ
Whenever we provide house demolition service in Camden, NJ, we thoroughly survey the area to check all the weak spots. Demolition methods vary according to building location, construction materials, disposal techniques and the overall demolition goal. Depending on what you're demolishing, the techniques employed and the considerations taken by residential demolition contractors to deal with harmful materials can be different. Whether it is for a small home or a huge mansion, you must always be cautious in selecting residential demolition companies as amateur employees may make mistakes adding extra delays and costs to the project. Rest assured, our mobile home demolition team will come on time and work on your project with great precision.
Cost Estimation of Home Demolition in Camden, NJ
The cost of a house demolition service in Camden, NJ is influenced by factors such as the location of the property, scale of the project and the magnitude of the structure. House demolitions may cost a fortune but if it means ensuring the safety and well-being of the entire family, it is worth it. You can compare our rates with other home demolition companies. Our friendly residential demolition contractors can clarify any issues. Trust our mobile home demolition team to work hard to meet the deadline. Upon your request, we can provide a full breakdown of the fees you will need to pay. You can count on our staff at Omni Demolition to answer your questions or concerns about our services.
Residential Demolition Permits to Procure in Camden, NJ
A house demolition project will require you to apply for a permit. Documentation and special inspections even for a mobile home demolition might be needed depending on the state you are in. If you have the city on your side, the neighbors will fall in line nicely. If you fail to acquire demolition permit, you may be penalized. Allow our team of specialists to assist you the best way possible.
Things To Prepare Before a Camden, NJ Residential Demolition Project Starts
Any big or small home demolition job in Camden, NJ begins with preparation. Initially, you should clean out your house. Remove all your valuables and furniture. Once your permit application is granted, the next step is to prep your house for demolition. Although a routine mobile home demolition project can be completed fairly quickly, you may still want to check with our team to provide you a tentative schedule for the entire procedure.
Reasons for a Residential Demolition in Camden, NJ
There are other possible reasons for a house demolition. Some possible reasons that could justify demolitions: unstable foundation, widespread infestation in the house, and when there is a need to build a new structure. Perhaps you are happy with the basic structure of your home, but want to add a room. To do this you need a residential demolition professional to do the job, to make sure that the rest of the house remains safe and intact. It is better to call a demolition specialist to lend you a hand instead. When structural safety is a concern, tearing down and starting from scratch is often the best initial step to making enhancements and upgrades to your estate. This calls for residential demolition work to be done in Camden, NJ. Hiring the right company will ensure that you're happy with the end results.
Using the Right Equipment and Tools for a Residential Demolition in Camden, NJ
The residential demolition contractors at Omni Demolition have provided safe and reliable home demolition services in Camden, NJ for many years now. Our contractors use high-end equipment and whether you call us to remove a small section of your house or the entire structure, rest assured we will use industry-grade tools. Without well-maintained and smooth-operating equipment, contractors won't be able to haul materials or pull out pipes and trusses. So, anybody who wants to hire a demolition contractor needs to make sure that they are trained and qualified.
Give Us a Call If You Have a Home Demolition Job in Camden, New Jersey
We have built a reputation in the house demolition industry as one of the leading demolition companies. Never hire companies that will charge you a cheap rate but provide unsatisfactory services. With all the right equipment, we assure you of minimal time, to complete the task at hand. Fortunately, with our Camden, New Jersey residential demolition contractors, you will never have to worry about handling your run-down property on your own. Rest assured that we follow strict measures when performing our services. Call us at
(855) 885-3366
for a full cost estimate.
Zip Code Areas We Service in Camden
08104, 08105, 08102, 08103, 08101