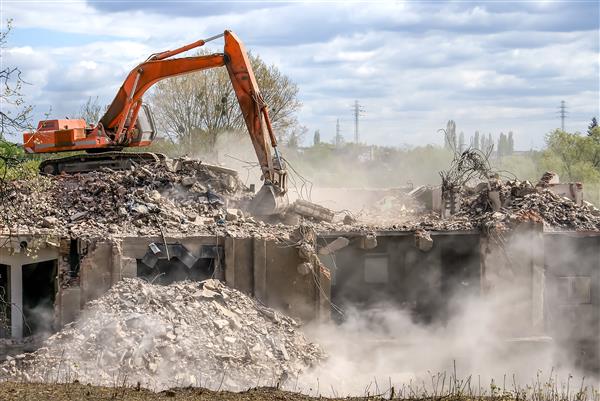 The Leading Company for All Your Concrete Removal Needs in Eugene, OR
There are a number of reasons why you might need to hire our concrete removal services in Eugene, OR. The importance of concrete demolition cannot be overstated. For example, at Omni Demolition, clients need concrete slab removal and concrete hauling services in order to build or rebuild new structures. After all the work is done and the dust settles, you'll find that our services are done with excellence and are very affordable.
Specialized Equipment Used for Concrete Removal in Eugene, OR
Manual concrete demolition is done on small or residential structures. Other equipment used to ensure maximum success in service delivery are mounted breakers, which are popular in concrete slab removal because of their impact energy, speed and versatility. A few examples of the equipment we use include chipping hammers, demolition hammers and hydraulic concrete crushers. We specialize in removing concrete driveway as well as concrete wall demolition. Consulting with a trained expert is important, as there are a number of things that need to be considered before embarking on concrete removal, such as your legal obligations and safety requirements. Pavement breakers are also used for heavy demolition jobs. In primary demolition, equipment and tools such as the wrecking ball, hammers and crushers demolish concrete into big sized rubble. We are well equipped in handling all your concrete removal and concrete hauling projects.
Why Is It Important to Carry Out Concrete Demolition in Eugene, OR?
When is it necessary for you to get demolition services in Eugene, OR? Some of the main reasons include the overall condition of the structure and presence of faulty wirings or leaky water pipes underneath the cement. Along with concrete demolition we also offer concrete hauling services. If you see frost heave or concrete that is pushed upward, cobweb-like cracks on cement, sunken slabs and even fragmented foundations, it is best to call us for a concrete demo and plan on rebuilding your property. It could be that you want to replace an old structure with a new one or to remodel an existing structure.
Getting Concrete Removal Permits in Eugene, OR – We Got That Covered
The government usually requires permits for a concrete removal and concrete hauling project in Eugene, OR. While other concrete removal companies may include additional fees for processing the required permits, we at Omni Demolition have got you covered. If you have just moved to Eugene, OR or if this is your first ever attempt in handling a major renovation or structural change, chances are you do not know which requirements you need and how you can get the necessary permits completed. You will be required to submit a few documents depending on the type and size of your project. At Omni Demolition, you can trust our team to assist you in securing the required clearances and permits.
How Much Should I Pay for a Concrete Demolition Project in Eugene, OR?
For starters, there are demolition permits which can cost you a lot depending on the location of the project. The larger the square footage, the more tools and labor required for the job. In addition, the more concrete demolished, the higher the disposal fee and the heavier the waste, the higher the cost of transportation. Quite a number of concrete removal companies in Eugene, OR reduce the cost per square foot once the project is a given size. Whether you have an easy patio demolition or patio removal job for us or a major road removal project, expect nothing less than V.I.P. treatment and a premium end result. We might not have rock-bottom prices but considering the excellent workmanship and first rate customer service we provide, you are guaranteed the best value for your money. This is because, removing reinforced steel in the concrete structures requires manual cutting. We have the necessary skills and equipment to handle any concrete demolition project you may have.
Expected Duration of a Concrete Demolition in Eugene, OR
Time taken to complete a concrete demolition project varies. Once you find it satisfactory and approve of the proposal, work on your concrete slab removal and concrete hauling project in Eugene, OR commences. Depending on our agreement and forecast, work can be completed within a day, a week or even a month. Count on us to ensure that your project is executed perfectly. This is because the speed and performance of hand held tools varies greatly with that of automatic or advanced machinery.
Making the Most Use of Your Demolished Asphalt or Cement in Eugene, OR
Do you ever wonder where all the waste from a concrete demolition and removal project go? Because we are an environmentally friendly company, preserving our surroundings is at the forefront of our mission. The process of recycling done by our concrete demolition contractors includes salvaging rubble from demolition, crushing it, pre-sizing and sorting. The crushed materials are often referred to as dry aggregates, and they can last a long time if applied the right way. Additionally, crushed concrete is also cheaper and greener compared to the regular type. This reduces disposal and hauling costs.
Contact Our Eugene, Oregon Concrete Demolition Experts
Our team is only a call away when our clients need urgent concrete demolition services. There are many reasons why Omni Demolition should be your number one pick for all your concrete slab removal projects. Experience a professional concrete removal service that is reasonably priced. We act fast and charge fair rates for whatever service we deliver. With our help, you won't have to risk your family's safety. We professionally handle each client request in Eugene, OR.
Zip Code Areas We Service in Eugene
97405, 97404, 97401, 97403, 97402, 97440