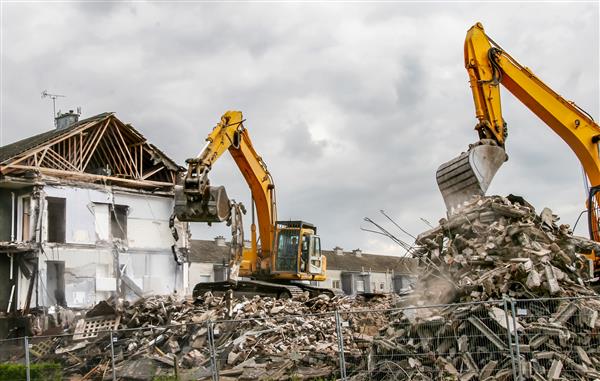 Omni Demolition: The Most Trusted House Demolition Expert in Eugene, OR
There comes a time in your life when you need to hire a house demolition service in Eugene, OR. We are among the top house demolition companies you can find in the area. Here at Omni Demolition, our residential demolition contractors will be there and will carry out the task at hand only when you are ready. Omni Demolition is a local favorite for house demolition. Once you see thick cracks on the wall or observe any signs of a weak foundation, you must schedule an appointment with a building expert right away. This way, you can already assess the situation and decide if you will need a renovation or demolition job. Whether you call us for a full-scale mansion demolition or an easy mobile home demolition, rest assured you will receive our best services. We use top-notch and state-of-the-art tools and equipment to get the job done.
How We Provide Our Eugene, OR Home Demolition Service
House demolition methods are used for demolishing massive residential structures. When a client dials our number to book our Eugene, OR demolition package, we immediately schedule an onsite inspection. This way we can assess the situation, provide a project timeline and come up with a sound plan. We carefully create a plan to effectively target which parts we need to work on first. Contrary to popular belief, there is an art to effectively destroying a building. With the help of our residential demolition contractors, you can tear down any type or size of building. When hiring residential demolition contractors, you need to be very cautious. We put our best foot forward whether we're working on a mobile home demolition project or demolishing a three-storey home. Using our lengthy experience in the industry, we can guarantee a smooth delivery of our services.
The Cost of a Home Demolition in Eugene, OR
Building a house often involves a huge sum of money, but did you know that a house demolition in Eugene, OR can also be quite significant? Variables that affect the cost of a demolition project include asbestos-contaminated materials that are not only more labor intensive to remove, but also cost roughly three times as much to safely get rid of in contrast to other materials like timber or concrete. Some home demolition companies also have high rates because there are instances where they need to do additional tasks other than demolition. Our friendly residential demolition contractors can clarify any issues. We can supply you with a cost estimate for anything as small as a mobile home demolition project or as big as a multi-storey condo development. There's really no other way to get good results but to have it done by a professional. You can count on our staff at Omni Demolition to answer your questions or concerns about our services.
What are the Residential Demolition Clearances I Need in Eugene, OR
A house demolition project will require you to apply for a permit. Some of the usual paperwork required for a house demolition or mobile home demolition job include asbestos inspection repair and dust control clearance. All the processing, inspection, and actual permit fees will cost you a significant amount of money that can actually add up to the final budget for the project. Any demolition company will need to be able to work within strict safety regulations that are controlled by safety inspectors. Make sure you push through with the application to avoid delays as well as penalties.
Preparations Before a Residential Demolition in Eugene, OR Begins
So you've made up your mind to hire a professional for your Eugene, OR home demolition plan. The next logical step is to prepare your house for the demolition job. Clear your site by getting rid of all the furniture and personal items so that it is ready to be broken apart. Flooding and electrical fires are a dangerous threat at every demolition. We make sure that mobile home demolition service is carried out efficiently at a very cost effective rate, and that no error takes place during the duration of the project, making sure to meet your schedule as quickly and efficiently as possible. These types of projects mostly require permits and you can count on us to take care of this for you.
Reasons for a Residential Demolition in Eugene, OR
Several residential demolition projects arise from improving a newly bought piece of estate or cleaning up a landscape. If you spot cracks, cave-ins or other signs of wear and tear, especially in the home's foundation, contact an expert right away. With a residential demolition service in Eugene, OR, you won't need to worry about degraded cement or foundation. We will only need to study the place to know where we should start first.
Guaranteed Quality Residential Demolition in Eugene, OR Property
As a leading corporation with the finest residential demolition contractors in Eugene, OR, we strive to deliver top-notch home demolition services to all our customers. A demolition contractor needs several kinds of special tools and equipment to perform their job properly, and a skilled demolition contractor should be able to competently operate all of the necessary equipment. The project may call for the use of excavators, cranes, and large hydraulic equipment, etc. For large buildings, it requires the use of wrecking ball. At times, explosives are used to knock down huge structures. With demolition equipment such as trucks, loaders, tractors, wheeled tippers, concrete crushers and excavators, demolition can be done in just a matter of hours. The most popular among these is the wrecking ball, though safety explosives are also commonly used. We guarantee to work fast so you can start rebuilding your property right away.
Call for a Quick and Seamless Home Demolition in Eugene, Oregon
Don't risk your safety just to save money! Choose to work with a seasoned home demolition expert who can carry out your demolition requests. No matter how big or demanding the job, we have the resource, experience, and skills to take care of it safely, responsibly and professionally. After the call, we guarantee to send our residential demolition contractors to work on your Eugene, Oregon properties fast. Rest assured that we follow strict measures when performing our services. Call us today at
(855) 885-3366
and we will give you a full cost estimate free of charge.
Zip Code Areas We Service in Eugene
97405, 97404, 97401, 97403, 97402, 97440