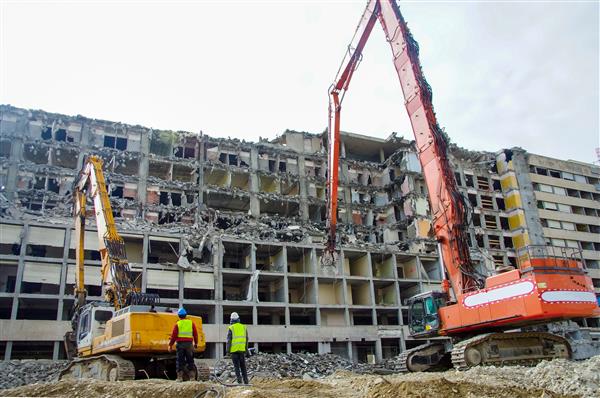 Demolition Contractors Eugene, OR The Demolition Company That You Can Count On
The strength of Omni Demolition lies not only in its state of the art equipment and the expertise of its demolition contractors but the commitment that we have in providing unsurpassable services. We will be able to complete your project in a professional, cost-effective and safe way. Our contractors ensure that the necessary safety measures and procedures are in place in the work environment. If you need a structure or building taken down, our demolition experts will use the fastest and most economical method of demolition. The primary projects we undertake are demolition and deconstruction.
What are the differences Between Demolition and Deconstruction in Eugene, OR
Demolition is taking down or dismantling a building or structure with a strong and overwhelming force whose end result is rubble or waste. Demolition can either be selective or explosive. Explosive demolition uses mostly dynamite to bring down big buildings. Selective demolition involves bringing down a part of a building or tearing a section of a wall by a demolition expert. Deconstruction on the other hand is a type of demolition used in Eugene, OR. It entails tearing down the components of a building for the purpose of recycling, re-using as well as waste management. Deconstruction is when a demolition expert carefully dismantles or takes down a structure with the aim of reusing or recycling the materials.
You can Trust Us with Your Demolition Project in Eugene, OR
We maintain multi-disciplined and highly seasoned demolition experts and demolition contractors in Eugene, OR-fully trained in material handling and equipment operation. An experienced and well-trained demolition contractor will manage your project and ensure that the job gets done. Our word is our bond. We have an impeccable record of giving our clients value for their money while never compromising on the quality of our work. Do not be tricked by demolition contractors who cannot walk the talk.
What Demolition Services Can You Expect to Find in Eugene, OR?
Industrial Demolition Services: This type of demolition service requires a surgical approach. We have a systemic, controlled and detailed solution in place for demolishing facilities such as chemical plants, manufacturing plants, port facilities, oil refineries, factories, and lumber mills among others.
Commercial Demolition services: We are a prominent demo company in handling commercial buildings even in the most unimaginable spaces. We have taken down storehouses, grocery stores, airplane hangars, and large public structures among others.
Concrete demolition and recycling services: Let our demolition experts know if you wish to maximize the use of the structure's concrete materials and we will break them down into reusable gravel.
Scrap Metal Demolition Services: Our demo company will save you time and money by demolishing your metal structure, putting a recovery plan in place and selling the salvaged scrap metal for you.
What Distinguishes Us from Other Demolition Companies in Eugene, OR
Our demolition experts and highly skilled demolition contractors have worked on the most noteworthy projects in Eugene, OR. We are a class above the rest. What sets us apart is our unshaken resolve to achieve 100% in customer satisfaction. We are a demolition company that takes our work seriously and consistently conduct regularly equipment maintenance, which ensures efficient and quick clearing operations. As a trusted demo company, we have established a life-long relationship with our loyal patrons who can attest to our efficiency and commitment to getting the job done.
Methods Applied in Demolition and Deconstruction in Eugene, OR
Explosive Demolition: Conducted by our skilled demolition experts in Eugene, OR, this method requires properly laying out detonators and explosives to bring a structure down to a pulp.
Non-Explosive Demolition: Our local demolition contractors will use a wrecking ball to bring down your structure. This method is cheaper than explosive demolition.
Selective Demolition: This type of demolition is done when you want to remodel or renovate a building. It can either be exterior or interior by nature. Exterior demolition involves tearing down a part of the building with a purpose of increasing it in size or making it smaller. Interior demolition focuses mostly on taking apart spaces for remodeling or renovation.
We Utilize Well-maintained Equipment for Demolition in Eugene, OR
Hydraulic breakers – Our demo company uses hydraulic breakers or hammers in crushing otherwise solid surfaces such as concrete, cement and even rocks.
Wrecking Balls – Buildings or structures that are more than 6 storeys high are demolished with the help of a wrecking ball suspended on a crane by a steel rope. The wrecking ball is pulled then released towards the structure. With force, the steel ball strikes the structure and demolishes it in bits.
Hydraulic shears and rock breakers – When attached to excavators, these tools are helpful in cutting through any type of surface. Using electrical force, it can slice through metal, steel, concrete, rock and wood.
Bulldozers – Commonly seen in construction sites, bulldozers are not only good for flattening surfaces but also for moving and transporting waste materials. It can also be maneuvered to knock down weak walls and structures.
Dumpers – A dumper or a tipper truck is essential in the demolition business. This vehicle is specially designed to carry debris such as gravel, or demolition waste in bulk away from the property. It makes cleaning up the property after demolition easier and faster.
Cranes – Demolition contractors use cranes to transfer materials within the site especially from lower to upper floors and vice versa. Aside from being used as a pulley, our demo company also uses cranes for wrecking balls.
Crawler Loaders – Mostly used for excavating, this equipment is also utilized for its lifting and loading capabilities.
For All Your Demolition Service Needs in Eugene, Oregon, Contact Us Today
There is no other demolition company in Eugene, Oregon that offers high quality services with reasonable prices as us. We guarantee safe, timely and effective services. Our demolition company never offers excuses; we simply provide professional and timely services guaranteed to accommodate your budget. Our work integrity and reasonable packages are only some of the reasons why we are a well renowned Eugene deconstruction and demolition company. Call us today at
(855) 885-3366
and allow us to assist you with your demolition requirements.
Zip Code Areas We Service in Eugene
97405, 97404, 97401, 97403, 97402, 97440