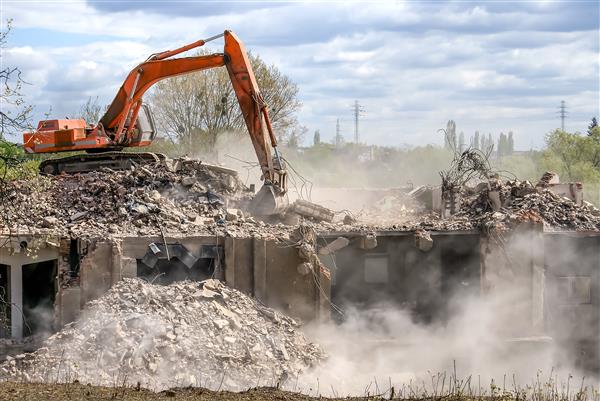 Finding the Best Concrete Removal Company in Mansfield, TX
Concrete removal is an essential part of any construction project in Mansfield, TX. We do not just know the basics of concrete slab removal; we are certified experts. We are the most knowledgeable when it comes to cost-effective concrete hauling and recycling. Whether it is taking down an old building to replace it with a new one or improving the condition of a derelict building, Omni Demolition has the right people for the job. At Omni Demolition you can benefit from our affordable fees and quick delivery time.
Important Equipment Used for Concrete Removal in Mansfield, TX
At Omni Demolition, we use quite a number of heavy machinery and equipment for concrete demolition. Here at Omni Demolition, in order for a concrete slab removal job to be successfully completed, using the right equipment is very crucial. We give importance to our client's time which is why we ensure equipment and material readiness to avoid any delays to your projects. We strategically plan out tasks and delegate enough manpower especially in removing concrete driveway, conducting concrete slab demolition, or doing a concrete wall demolition. It pays to work with professionals, most especially when you don't know what to do. Book with us for stress-free services and operations that finish on time. Hydraulic concrete shears are used in secondary demolition where they help to separate concrete from steel reinforcements and further reduce the size of the rubble.
When Do You Need Concrete Demolition Services in Mansfield, TX?
Concrete is designed to last a very long time if it is installed properly. However, like every other type of material, its structure will also degrade over time. Some of the main reasons include the overall condition of the structure and presence of faulty wirings or leaky water pipes underneath the cement. Along with concrete demolition we also offer concrete hauling services. Safety is a huge part of our operations and we follow all precautions to ensure zero incidents from beginning to end. If you see any signs of structural damage on the walls, ceilings and other sections of your house, you must consider booking a demolition service as soon as possible to prevent accidents.
Permits Needed for Concrete Removal in Mansfield, TX
In almost all cases, you will need permits for carrying out a concrete removal or concrete hauling project in Mansfield, TX. While other concrete removal companies may factor processing the permits and approvals as additional costs to you, at Omni Demolition, we take care of that for you. If you are unfamiliar with the paperwork required when demolishing or reconstructing properties in Mansfield, TX, you can relax knowing that we are here to make things easier for you. You will also need to have a rough estimate of the possible project costs. Your main goal should be to minimize the risks of delaying the project by preparing the necessary documents beforehand.
How Much You Should Spend on a Mansfield, TX Concrete Demolition
Applying for a demolition permit can already cost you more than $200. The price can go up, depending on where your project is located. This estimate is for the removal of unreinforced concrete of a two-car driveway with zero disposal fees. For a budget of $400, you will be able to complete the removal of unreinforced concrete from a patio that is two hundred square foot in size with zero disposable fees. Whether you have an easy patio demolition or patio removal job for us or a major road removal project, expect nothing less than V.I.P. treatment and a premium end result. For a budget of $10,000 you will be able to complete the removal of foundation and reinforced concrete. We guarantee to provide a competitive and reasonable price.
How Long Do Concrete Demolition Projects Take Place in Mansfield, TX?
Time taken to complete a concrete demolition project usually depends on a number of things. We also explain the permit requirements and application to our clients before we provide services such as concrete hauling and concrete slab removal. At our company, we are able to finish a demolition or hauling job within as little as a few days, depending on the size of the property. As soon as we assess the situation, we can draft a plan and present it to you for approval. With that in mind, it might take days, weeks or even months to have your project completed depending on its nature, type and all the other aforementioned factors.
Is it Possible to Recycle Concrete Demolition Waste in Mansfield, TX?
With rising pressure on local landfills, the diversion of rubble from a concrete demolition and removal project is becoming increasingly important. Concrete recycling is an integral part of concrete demolition. Feel free to ask our concrete demolition contractors about recycled concrete. You can get paid by companies who reuse concrete in major constructions such as road paving and you also help minimize damage to the environment through responsible recycling – it's a win-win situation! Recycling concrete can save a considerable amount of money which would otherwise go towards transporting the concrete to a local landfill or towards disposal costs.
Call for a Quick Concrete Demolition Service Today
Our team of experts uses modern concrete slab removal techniques and high end equipment, ensuring outstanding concrete demolition services at all times. Omni Demolition has all the skills, tools and equipment needed to perform a concrete slab removal or hauling service. Our history of completed projects speaks for us when it comes to expertise, safety requirement compliance, and outstanding workmanship. We act fast and charge fair rates for whatever service we deliver. With our help, you won't have to risk your family's safety. Our fulfillment is in achieving excellence.
Zip Code Areas We Service in Mansfield
76063