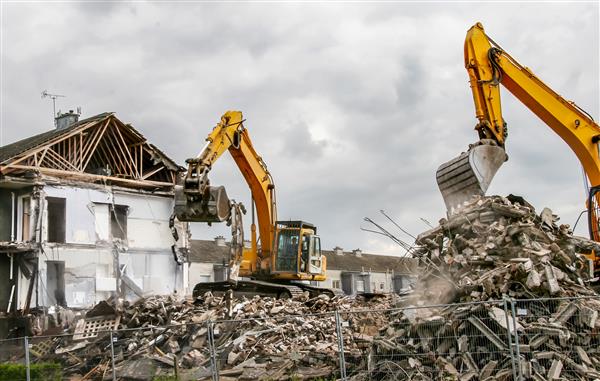 Omni Demolition: A Residential House Demolition Company You Can Count On
When a property in Mansfield, TX has sustained enough damage or takes up a desired spot for a new structure, your best option is a house demolition. Consequently, it is always important that you hire only professional house demolition companies backed by many years of experience. Don't let the damage worsen and affect the rest of your house. We don't offer excuses; we just offer professional and timely demolition services guaranteed to fit your budget. We guarantee that our well-trained house and mobile home demolition experts can help you with your project.
Home Demolition Techniques in Mansfield, TX
As a company specializing in house demolition in Mansfield, TX, we strive to provide each client with exceptional services. Our experts use several demolition techniques depending on the situation. If you do not have a solid plan on how to take down each part of the structure, you risk getting injured. Our residential demolition contractors make use of various tools and equipment to ensure that we deliver flawless service. As one of the leading residential demolition companies in the city, you can count on us to provide reasonably priced home, condo, townhouse or mobile home demolition services. We will give you a fixed timeline for the project and discuss the entire procedure before we proceed.
What to Consider After Getting a Home Demolition Quote in Mansfield, TX
House demolition costs in Mansfield, TX are bound by some variables that determine the total expenses during a demolition project. House demolitions may cost a fortune but if it means ensuring the safety and well-being of the entire family, it is worth it. A teardown can be a worthwhile option for you, but be aware of some home demolition companies' potential snares, traps, and costs up front. Here at Omni Demolition, our residential demolition contractors offer the most affordable house and mobile home demolition rates coupled with unmatched services. The size of the building is also taken into consideration. Unlike other companies, you can get everything you need from our contractors for a fair price.
Residential Demolition Permits to Acquire in Mansfield, TX
Every type of building construction, house demolition or even mobile home demolition requires a permit. You must secure the documents required in Mansfield, TX. Some of the reports you will need to secure include dust control clearance and asbestos inspection. Allow our team of specialists to assist you the best way possible.
What Should I Do Before the Start of My Residential Demolition in Mansfield, TX
Aside from securing paperwork, you will also need to make a few other preparations before you start with your home demolition or mobile home demolition project in Mansfield, TX. Whether it is a huge office building or a small house, site preparation is a crucial factor. A demolition contractor then starts the process with the removal of valuables from the building, such as the copper wiring; then follows the removal of materials like glass, asbestos sheets and other materials, which are considered to cause serious safety hazards during and after demolition. Make sure you remove any personal items or important home equipment. There shouldn't be anything left inside the house during the demolition job to avoid interruptions. As much as possible, consult with our team and ask for a timeline so you know what to expect.
Reasons for a Residential Demolition in Mansfield, TX
Materials degrade over time, most especially when they are constantly exposed to environmental stressors such as weather changes, intense heat, cold, and pest infestation and may become unsafe or not financially viable to fix the issues. Demolishing the house or parts of it is your best option, most especially if the property shows risks of caving in. Weigh in your options. Focus on the safety of your loved ones, most especially if you are dealing with weak foundation or walls. We can schedule your residential demolition service in Mansfield, TX as soon as you call us.
Equipment Used for Residential Demolition in Mansfield, TX
Depending on the demo project, residential demolition contractors might use trucks, loaders, tractors, wheeled tippers, concrete crushers or excavators to cautiously tear down the structure. Pry bars and sledgehammers can be used for interior demolition projects. The tear-down process chosen by demolition contractors is quite different when it comes to completely demolishing a building in one location versus another, depending on the situation and surrounding conditions. Aside from our extensive tools and equipment, our experts are equipped with advanced technical skills and industry experience. Depending on what you are demolishing, you might need to use different tools like tractors, wheeled tippers, concrete crushers and excavators to finish the job. They every so often use explosives to implode any condemned building. This method of home demolition is done with a great care so that nearby buildings don't incur damages.
Give Us a Ring Today for Home Demolition Services in Mansfield, Texas
It is definitely not easy to tear down walls and pull out foundation beams. Our demolition company has been conducting partial and full demolitions for over a many years. We promise to complete your request within a short span of time. All our residential demolition contractors in Mansfield, Texas are certified, and full background checks have been carried out on all of them. Upon your request we will provide a complete cost estimate. Give us a call at
(855) 885-3366
so we can get started on your project!
Zip Code Areas We Service in Mansfield
76063