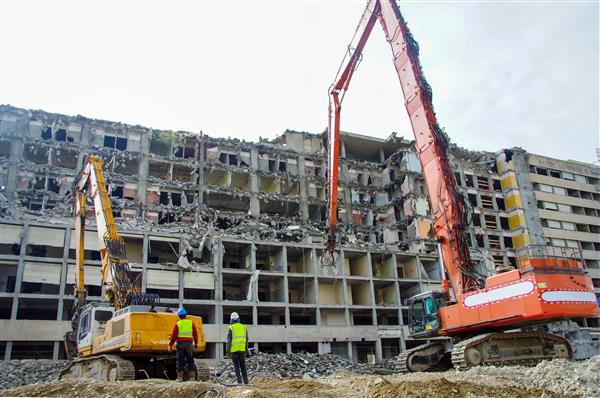 Demolition Contractors Mansfield, TX: Your Go-To Demolition Company
Omni Demolition is composed of reliable and dependable demolition contractors in Mansfield, TX. Our demolition process complies with all the regulations and standards in Mansfield, TX. We offer unrivalled expertise and deliver tailor-made solutions to both simple and tough demolition projects. The commitment and competence of our demolition experts guarantee that you will be working with the most suitable partners. For complex demolition jobs, we offer reliable demolition services.
Demolition vs. Deconstruction in Mansfield, TX
Demolition is a faster process in comparison to deconstruction. Our demolition expert tests and removes hazardous material before knocking down the building. A deconstruction may be implemented on its own or as a pre-demolition procedure. There are two types of deconstruction: selective and whole-house.
Why Come to Us for Your Demolition Project in Mansfield, TX
Our demolition experts and demolition contractors in Mansfield, TX are highly skilled in meeting all your demands. Some demolition contractors offer their services at rock bottom prices but this may cost you more in the long run. We pride ourselves in being reliable and efficient service providers who will cater to all your unique needs. Our demolition contractors are not only committed to providing first rate work but also ensure that all steps are taken to cause little to zero disturbance to the environment and to the properties adjacent to the site. Our job is thorough and you can be certain that once we are done, you do not have to worry about hazardous wastes being left behind. Our job is thorough and you can be certain that once we are done, you do not have to worry about hazardous wastes being left behind.
Professional Demolition Services in Mansfield, TX
Industrial Demolition services: Complexity and size do not intimidate us. We have successfully torn down enormous structures such as manufacturing plants, factories, warehouses and even utility installations.
Commercial Demolition Services: Despite commercial buildings being located in compact spaces, our demo company is able to bring down your building or structure in a safe way with minimal damage to the surrounding area. Using modernized equipment, our team of professionals have pulled down warehouses, grocery stores, shops, airplane hangars among others.
Concrete demolition and recycling services: Our demolition experts are knowledgeable in pulverizing slabs and concrete to be turned into eco-friendly gravel.
Scrap Metal Demolition Services: You do not have to worry about disposing of scrap metal once your metal structure is demolished, our demo company will help you sort out the scrap metal which can be recycled and reused for building.
We are on Top of Other Demolition Companies in Mansfield, TX
Compared to other service providers, we take pride in having hardworking demolition experts and highly skilled demolition contractors. Our demolition experts are highly experienced in all types demolition services be they in a remote or challenging environment. As an established demolition company in all of Mansfield, TX, we see to it that our services, equipment and workmanship are always above customer satisfaction. Being a demo company in this business for years, we have perfected the process of demolishing structures as cost-effectively and safely as possible.
Main Methods for Demolition and Deconstruction in Mansfield, TX
Explosive Demolition: Done by licensed demolition experts in Mansfield, TX, this method may sound dangerous and it could be when proper procedures are not followed. After explosives are strategically laid out, a switch is all it takes to completely take down a building.
Non-Explosive Demolition: This method of demolition does not use explosives. Our local demolition contractors can use equipment such as wrecking balls, excavators and bulldozers.
Selective Demolition: Our demo contractors use this method when their goal is to recover or salvage demolition materials. Building demolition companies reuse or recycle the salvaged materials thus reducing waste.
Well-maintained Equipment Utilized for Demolition in Mansfield, TX
Hydraulic Breakers-They turn excavators into powerful and effective demolition machines. Our demo company uses hydraulic breakers to break rocks, concrete and other hard materials.
Wrecking Balls – Although less common in demolition sites, it is an efficient way of demolishing a concrete structure. This solid steel ball is attached to a crane. It is then swung to the targeted building several times to strike down the structure.
Hydraulic shears and rock breakers – These are helpful in cutting all sorts of steel, wood, rocks, concrete and metal. They make a very clean cut within a short period of time.
Bulldozers – A favorite among contractors, a bulldozer can be an intimidating piece of equipment on wheels although it is fairly easy to maneuver. It can be used to transport copious amounts of waste, as well as to wreck walls.
Dumpers – A dumper is a very useful piece of machinery in every demolition business. It is used to carry away demolition waste from demolition sites.
Cranes – Our demolition contractors utilize cranes not only for suspending wrecking balls but in heavy lifting and moving materials within the site. Our demo company uses different types of cranes depending on the task to be fulfilled.
Crawler Loaders – They are very efficient in moving heavy materials and dirt piles. Some models of the crawler loaders are able to push down heavy smaller-sized structures. They are also used to clean the ground.
Contact Us for Any Demolition Services in Mansfield, Texas
A proper assessment from a qualified demolition company in Mansfield, Texas is necessary before you proceed with any major changes in your property. We believe in providing professional and affordable services. Contact us today and let our demolition company take the pressure off of you. Our Mansfield deconstruction and demolition company has highly skilled personnel with years of experience in the demolition business. Get in touch with us today at
(855) 885-3366
and we will be more than glad to help.
Zip Code Areas We Service in Mansfield
76063