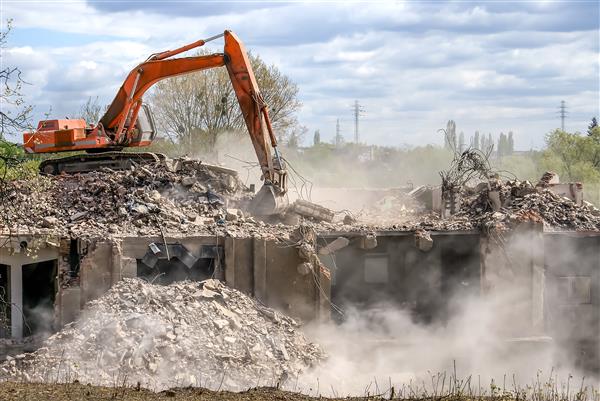 The Leading Company for All Your Concrete Removal Needs in McKinney, TX
Concrete removal is an important aspect in the construction industry in McKinney, TX. For your concrete slab removal and concrete hauling services, you can rest easy knowing that we have got you covered. We guarantee professional workmanship and absolutely no guesswork when you sign with us. At Omni Demolition, we give you value for your money.
Special Equipment Used for Concrete Removal in McKinney, TX
When looking for a contractor to hire, do not get drawn in by bargain prices. Instead, double check the company's performance and the condition of their equipment. Omni Demolition uses state of the art technology dedicated to do rapid yet effective concrete slab removal and concrete hauling. If you need assistance in removing concrete driveway, concrete slab demolition, or concrete wall demolition, we are the company most competent for the job. Pavement breakers are used when you need to partially repair a section of a pavement; it is able to demolish a few inches of the concrete pavement without breaking it up completely. When everything about your structure screams it is time for demolition, safety should be your priority.
When Should You Book a Concrete Demolition Service in McKinney, TX?
Concrete demolition in McKinney, TX solves the potential issue of unsafe structures. One of the most important questions is whether your concrete structure or building needs to be demolished in the first place. Signing with us means you get professional demo as well as concrete hauling that is beyond the required standards. Oftentimes, damages to properties require a complete removal and replacement instead of a concrete resurfacing which only hides the damage. With our trusted services, you have our assurance that the job will be done correctly and safely.
What Reports or Paperwork Do I Need for a McKinney, TX Concrete Removal Project?
You can't proceed with your concrete removal or concrete hauling project without securing a permit in McKinney, TX. Make sure that when you select among the concrete removal companies in the city, you check how well the staff can help you in preparing the requirement. For one, you will need a permit. The purpose of a permit is to ensure that the governing body is able to monitor the work being done in its jurisdiction for the safety of all involved. There are several instances where you need to get a permit from your local council such as: when a building is to be entirely demolished, part of the building is to be demolished or more than a half of a given floor area of a building or structure is to be demolished. Your local council may require that you get planning permits, demolition permits and a concrete demolition consent.
How Much Does a McKinney, TX Concrete Demolition Cost?
There are a number of factors that contribute to the cost of concrete removal with the biggest contributor being the total area of concrete to be removed. There are a number of factors that contribute to the overall cost of your concrete demolition project such as the type of concrete used. The more concrete you need removed, the higher the cost. Removal rates also affect costs. You should contact our reputable professionals in McKinney, TX for any concrete removal job such as a patio demolition or patio removal. Another factor that contributes to the overall cost is whether or not the concrete debris will be recycled. We can help you regardless of the type of project you wish to work on. Manpower, permits and type of equipment used also determine the cost of the project.
Expected Duration of a Concrete Demolition in McKinney, TX
We pride ourselves in having a quick an efficient turn around time in our concrete demolition projects. Our team of experts, however, is the most knowledgeable in the industry when it comes to concrete slab removal, or concrete hauling so we can guarantee the quickest operations without compromising quality and safety. What we can say is that for all contractual projects, we do what we can in terms of equipment and manpower readiness to ensure nonstop operations and an early finish. Count on us to ensure that your project is executed perfectly. This is because the speed and performance of hand held tools varies greatly with that of automatic or advanced machinery.
What Can I Do With My Concrete Waste in McKinney, TX?
After the completion of a concrete demolition and removal project, you tend to end up with lots of concrete aggregate. Ever wonder how this type of material can be used again? Our team recycles crushed and cut concrete slabs. Our concrete demolition contractors can use recycled concrete as a cheaper alternative of aggregate as opposed to newly mined aggregate. In this day and age of strict adherence to environmental laws, recycling concrete is a welcomed option. Concrete lasts long, and you can use it in various ways.
Make the Wise Decision by Calling Us for Concrete Demolition in McKinney, Texas
Our company, Omni Demolition has established a huge number of loyal patrons who prefer our concrete demolition services over other services providers in McKinney, TX. Omni Demolition has been a well-respected authority in concrete slab removal for many years. They know how to execute their assigned tasks with accuracy and they know how to tactfully minimize the risks associated with concrete slab removal projects. You can rest assured that we will deliver nothing less than exceptional results. Get in touch with us for the best concrete removal service.
Zip Code Areas We Service in McKinney
75069, 75070, 75071