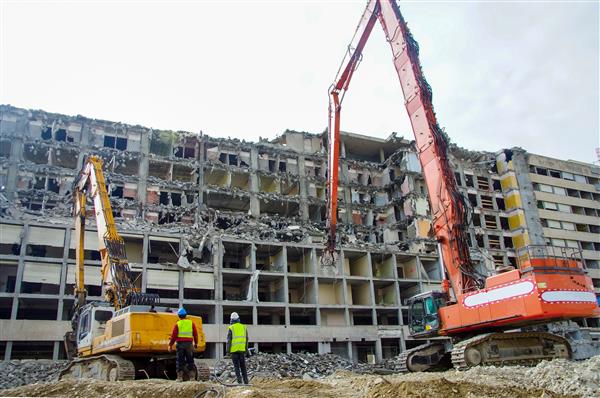 Demolition Contractors McKinney, TX The Demolition Company That You Can Count On
It can be a huge challenge finding reliable and affordable demolition contractors in McKinney, TX, but that is what Omni Demolition is here for. We will make sure that the project is completed within your budget and stipulated timeframe. Our demolition contractor is on standby at all times ready to cater to your needs. Always making sure that our clients are not kept in the dark, our demolition experts will guide you accordingly when it comes to recommended methods, pricing and procedures to be enacted. We have the resources and expertise to offer you the best solutions in a safe and professional manner.
Demolition vs. Deconstruction in McKinney, TX
Demolition is taking down or dismantling a building or structure with a strong and overwhelming force whose end result is rubble or waste. Demolition can either be selective or explosive. Explosive demolition uses mostly dynamite to bring down big buildings. Selective demolition involves bringing down a part of a building or tearing a section of a wall by a demolition expert. Deconstruction is when a demolition expert takes a structure apart carefully, one piece at a time. We have the know-how in identifying the value of extracted materials and their potential for reuse. Deconstruction is when a demolition expert carefully dismantles or takes down a structure with the aim of reusing or recycling the materials.
We are the Most Competent Specialists for Your Demolition Project in McKinney, TX
We know that before you consider hiring us, you will want to understand how the job gets done by our demolition experts. First and foremost, our selection of advanced and reliable equipment enables our demolition contractors to be highly efficient as well as cost-effective. Being in the business for years, our experience and continued trainings ensure that you work with only the most able specialists in the industry. Our demolition contractors are not only committed to providing first rate work but also ensure that all steps are taken to cause little to zero disturbance to the environment and to the properties adjacent to the site. From the start to the finish of your project, we are focused on your absolute satisfaction. From the start to the finish of your project, we are focused on your absolute satisfaction.
What Demolition Services Can You Expect to Find in McKinney, TX?
Industrial Demolition services: We are the authority in collapsing massive structures like bridges, factories, industrial buildings and plants.
Commercial Demolition Services: We know all the ins and outs of this delicate procedure. No matter the job, you can be rest assured that our demo company will give you the best results. Our demolition experts have the know-how and experience to bring down buildings and structures even in very tight spaces. Be it tearing down a mall, strip center, warehouse, bridge, hangar or structures in metropolitan areas, we have got you covered.
Concrete Demolition and Recycling Services: Concrete recycling results in saving costs in that it decreases the cost of transportation and disposal. Our demolition experts will break, remove and then crush concrete after demolition. The concrete can be used as an aggregate in new concrete.
Scrap Metal Demolition Services: Unlike other contractors who concentrate only on concrete, our demo company can assist in handling metal frames and recycling scraps.
We Take the Lead Among Other Demolition Companies in McKinney, TX
We are professional demolition contractors who offer superior quality services. Our demolition experts are highly experienced in all types demolition services be they in a remote or challenging environment. Using cutting edge technology added to our team's expertise, our demolition company is guaranteed to deliver more than promised. When it comes to bringing down old, dilapidated or unwanted property, we have vast experience as a demo company and we will ensure that our services do not cause any unintended damage or pollution
Types of Demolition and Deconstruction in McKinney, TX
Explosive Demolition: If you want to demolish a big structure, you have to bring out the big guns. Our demolition experts in McKinney, TX use explosive demolition for larger buildings. It is as effective as it is safe.
Non-Explosive Demolition: This method of demolition does not use explosives. Our local demolition contractors can use equipment such as wrecking balls, excavators and bulldozers.
Selective Demolition: Buildings are deconstructed with the aid of special equipment. It is a solution that maximizes efficiency while reducing waste. It is mainly used when building owners want to add extensions to the building, update the interior of a building, convert space or improve the health of the building. This is a delicate procedure that demands great precision and tact, which our demo contractors have and other building demolition companies overlook.
Well-maintained Equipment Utilized for Demolition in McKinney, TX
Hydraulic Breakers – A demo company uses hydraulic breakers to demolish concrete and pulverize rocks.
Wrecking balls – A massive ball made of steel, it is suspended on a crane and maneuvered into a swinging motion to tear down a building. It sounds less dangerous than using explosives but the use of wrecking balls gives little control to the depth of damage done, hence it requires careful and professional handling.
Hydraulic shears and rock breakers – These are helpful in cutting all sorts of steel, wood, rocks, concrete and metal. They make a very clean cut within a short period of time.
Bulldozers – Common equipment in construction sites used for excavating and hauling materials or waste. This machine can also be used to flatten or level structures hence the term bulldoze.
Dumpers – In every demolition business, dumpers are necessary to clear the site from rubble and debris.
Cranes – Demolition contractors use cranes to attach a wrecking ball to it. The wrecking ball suspended on a crane is then swung to the targeted structure. A demo company can use cranes to remove debris from high areas of a demolished structure. Cranes can also be used to load debris onto a dumper.
Crawler Loaders – Particularly useful in tight spaces, crawler loaders are versatile vehicles that function as a flexible loading and hauling machine. It can also be used for digging the ground.
Contact Us for Cost-effective Demolition Services in McKinney, Texas
Our demolition company in McKinney, Texas is the best one in town. You can rest easy knowing that we have a solution for all your demolition projects. Our demolition company provides all our clients with dynamic solutions for all their McKinney demolition and deconstruction needs. We deliver your McKinney demolition needs in a timely manner without compromising on the quality of our work. Give us a call today at
(855) 885-3366
and we will get back to you as soon as we can.
Zip Code Areas We Service in McKinney
75069, 75070, 75071