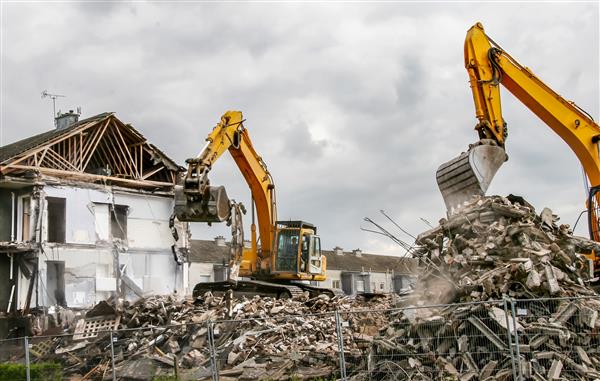 Omni Demolition: A Residential House Demolition Company You Can Count On
When a property in McKinney, TX has sustained enough damage or takes up a desired spot for a new structure, your best option is a house demolition. Unlike other house demolition companies, we are upfront and reliable, and we will never sell you services you do not need. Without a doubt, we all need change somewhere in our lives. In fact, our experienced professionals can work even on your mobile home demolition project, no matter how small it is.
Home Demolition Techniques in McKinney, TX
House demolition methods are used for demolishing massive residential structures. Demolition methods vary according to building location, construction materials, disposal techniques and the overall demolition goal. Other demolition methods that our experienced residential demolition contractors employ include crane, wrecking ball, and high reach arm. As one of the leading residential demolition companies in the city, you can count on us to provide reasonably priced home, condo, townhouse or mobile home demolition services. We will give you a fixed timeline for the project and discuss the entire procedure before we proceed.
Requesting a McKinney, TX Home Demolition Cost Estimate
Building a house often involves a huge sum of money, but did you know that a house demolition in McKinney, TX can also be quite significant? Before you completely say yes to an offer, see to it that you check every factor involved. Some home demolition companies also have high rates because there are instances where they need to do additional tasks other than demolition. At Omni Demolition, our residential demolition contractors offer the most affordable mobile home demolition rates coupled with unrivalled demolition services. We can confidently say that our services are all-inclusive. Unlike other companies, you can get everything you need from our contractors for a fair price.
Residential Demolition Permits to Acquire in McKinney, TX
Aside from the actual demolition job, obtaining the needed house demolition permits in McKinney, TX will also come with a price, even when it's only for a mobile home demolition. The requirements vary depending on the state you live in. Avoid incurring penalties and delaying your project by applying for the necessary permit. If you ever encounter problems along the permit application process or you have questions about the permit itself, our staff will be willing to help.Preparing for a Residential Demolition in McKinney, TXWhen preparing for a home demolition in McKinney, it is crucial for all utilities to be shut down. Start by clearing the area and removing all your furniture and valuables. We suggest preparing your house for the demolition job. The area will be completely cleared out and no one but authorized personnel will be permitted near it. Before starting the core process, long and tedious planning even for a simple mobile house demolition is required, especially if the chosen method is implosion.
Why Do I Need a McKinney, TX Residential Demolition Service?
There are a lot of reasons as to why a residence would need to be demolished. This ranges from wanting to renovate the house, a natural disaster that has damaged parts of the house, or the need to remove an existing structure so you can build a new one. A new structure may be needed after an earthquake, fire or flood, or some other incident that damaged the house or building severely. Small cracks can result in bigger and more serious problems along the way. As such, we suggest proactively approaching structural issues. Whatever reasons you have, you can get a quote on residential demolition costs in McKinney, TX from us. Hiring the right company will ensure that you're happy with the end results.
Guaranteed Quality Residential Demolition in McKinney, TX Property
The residential demolition contractors at Omni Demolition have provided safe and reliable home demolition services in McKinney, TX for many years now. The tear-down process chosen by demolition contractors is quite different when it comes to completely demolishing a building in one location versus another, depending on the situation and surrounding conditions. Without well-maintained and smooth-operating equipment, contractors won't be able to haul materials or pull out pipes and trusses. At times the demolition work might require using explosives-all our residential demolition contractors are also experts when it comes to explosives. We know how to handle our equipment well, so we can readily haul debris, break down walls, excavate building foundation beams and more.
Contact Us Today for Home Demolition Services in McKinney, TX
Never delay your demolition project because you may be at risk of getting hurt or spending a lot of money on repair jobs. We take all residential demolition projects very seriously and focus our efforts on a safe and fruitful demolition process. Our superior work ethic is the reason we exceed our customers' expectations. After the call, we guarantee to send our residential demolition contractors to work on your McKinney, Texas properties fast. We know that we have to earn your business and that is why we uphold high standards when it comes to the quality of services we offer.
Zip Code Areas We Service in McKinney
75069, 75070, 75071