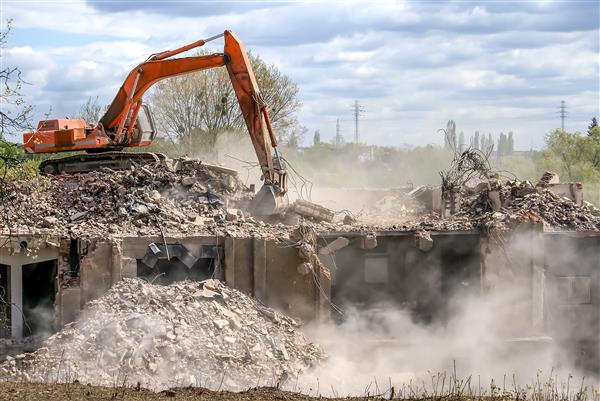 Reliable Provider of Concrete Removal Service in West Jordan, UT
Hiring professionals for concrete removal services in West Jordan, UT is not a minor expense and imagine how frustrating it would be if you ended up employing amateurs. Omni Demolition has the best concrete slab removal experts in the region. We have spent years perfecting our services. Our team of seasoned experts accomplishes everything from concrete hauling to onsite cleaning, with outstanding workmanship and dedication that no specialized training can teach. At Omni Demolition, we give you value for your money.
Equipment and Tools We Use to Provide Quality Concrete Removal in West Jordan, UT
Our contractors at Omni Demolition can perform a wide range of services because they are well-equipped. Within a reasonable timeframe, we can cut, crush and remove any size of concrete structure. Some of the equipment we have includes bobcats, trackers, pallet jacks and track loaders. Omni Demolition uses state of the art technology dedicated to do rapid yet effective concrete slab removal and concrete hauling. You can talk to our experts about your demolition or concrete removal needs anytime you want. Whether we are hired for removing concrete driveway, concrete slab demolition, or concrete wall demolition, you can guarantee no equipment failure onsite. Through controlled and precise actions, chipping hammers are used to chip away specific areas. When everything about your structure screams it is time for demolition, safety should be your priority. Hydraulic concrete shears are used in secondary demolition where they help to separate concrete from steel reinforcements and further reduce the size of the rubble.
When to Consider Booking a West Jordan, UT Concrete Demolition Service
There could be various reasons for a complete or partial concrete demolition, but no matter what the cause is, rest assured that we will carefully assess the situation so we can give you the right solution. It is also necessary in situations where you want to improve a part of a structure or building. Whatever your demolition and concrete hauling requirements are, we can help you achieve all your goals at a budget-friendly price. We have experts in West Jordan, UT who are well-equipped to help you knock down any part of your house. Regardless of the size, we will see to it that we finish the project on time. Having them torn down can be quite a challenge as opposed to erecting them.
What Documents Do I Need to Secure Before a Concrete Removal Service in West Jordan, UT?
Before you can start a West Jordan, UT concrete removal, concrete hauling project or any other related service, you need to secure a few documents. Start by applying for a permit from the local authority. There is a limited number of concrete removal companies in the city who take care of processing permits for their client and usually leave it to the owner to apply for the demolition permit themselves. Avoid getting penalized by the local authority. We will make sure that you have all the permits you need to ensure an uninterrupted execution of your demolition project. Different councils have their own different set of rules, based on whether you are demolishing an entire structure or just a part of it.
How Much Do I Need to Pay for Concrete Demolition Services in West Jordan, UT?
Other service providers in West Jordan, UT make their proposed contract sound complicated to justify unreasonably priced estimates. The cost of demolition is impacted by several things like the amount of concrete that needs to removed. Other companies reach a higher price range of $15,000+. There will be tricky companies who will make a simple patio demolition or patio removal as complicated as possible to deceive you into agreeing to unreasonably expensive estimates. For a budget of $10,000 you will be able to complete the removal of foundation and reinforced concrete. Working with us means you get straightforward information especially with something as crucial as costs. We provide all types of demolition services at affordable rates.
How Long is a Concrete Demolition Service in West Jordan, UT?
It doesn't take long to complete a concrete demolition project as long as a careful and detailed plan is made by the demolition team beforehand. We plot reasonable timetables for the complete operation in West Jordan, UT, from preparation, to actual concrete slab removal, up to concrete hauling and site clearing. In cases where a city inspector has checked whether all sewer, utilities, and water facilities have been taken care of, our own men double checks to ensure the safety of our demolition in West Jordan, UT. In instances that an unforeseen situation arises, the client is notified to ensure that they are not kept in the dark and to establish the right expectations. Rest assured we will take good care of your demolition needs in West Jordan, UT and provide a clearly defined timeline for the entire project. The length of the project will mainly be affected by the size and current condition of the structure that needs to be demolished.
Can Concrete Be Recycled in West Jordan, UT?
It is not only an environmentally friendly process of utilizing concrete rubble but it is also a cost cutting measure for your concrete demolition and removal project. You can crush them up and use them as a base layer for your asphalt pavement. By recycling used up concrete, you can minimize waste and save money on your side projects. The process of recycling done by our concrete demolition contractors includes salvaging rubble from demolition, crushing it, pre-sizing and sorting. You can get paid by companies who reuse concrete in major constructions such as road paving and you also help minimize damage to the environment through responsible recycling – it's a win-win situation! Once concrete waste is salvaged, the uncontaminated concrete free of paper, wood and other materials is crushed.
Why Come to Us for All Your Concrete Demolition Needs in West Jordan, Utah
Our concrete slab removal services are unmatched. Moreover, we are well equipped to handle any other concrete removal service you may be in need of. At Omni Demolition, your Concrete slab removal project needs the exceptional expertise and experience that we bring to the table in West Jordan, UT. Whether you call for a concrete slab removal, concrete hauling, site cleanup or any other service, you can be sure that you'll be getting the best team to assist you. We have been in this business for many years. We guarantee to come and fix your concrete-related problems fast. Our professional contractors know the proper way to handle equipment. Contact us today for a concrete removal service!
Zip Code Areas We Service in West Jordan
84088, 84081, 84084