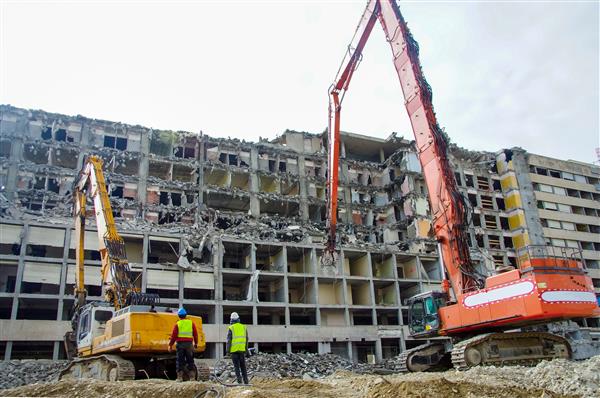 Professional Demolition Contractors West Jordan, UT – What You Need to Know when Hiring a Demolition Company
Omni Demolition has demolition contractors at your service whose specialty is providing superior-quality, safe and cost-effective services for all our clients. We are dedicated to working on your project with no distractions whatsoever. You never have to worry about timelines. Led by deconstruction experts in the industry in West Jordan, UT, our demolition experts offer innovative approaches to all your projects, whether big or small. The primary projects we undertake are demolition and deconstruction.
How is Demolition Different from Deconstruction in West Jordan, UT?
Demolition is the process of tearing down or pulling down buildings and structures by a demolition expert. Demolition can either be selective or explosive. Explosive demolition uses mostly dynamite to bring down big buildings. Selective demolition involves bringing down a part of a building or tearing a section of a wall by a demolition expert. Knowing the accurate requirements for your project is important to steering it into the right direction. The rubble from the process is either disposed-off as waste, used as clean fill or re-used as aggregate. In case of metal structures, the scrap metal is recycled. Our demolition experts are most experienced in going over construction sites to see what items may be salvaged and put aside to be used again, often saving time and resources.
Why Choose Us as Your Company of Choice for Your Demolition Project in West Jordan, UT
Our demolition experts guarantee to provide you with professional demolition services. An experienced and well-trained demolition contractor will manage your project and ensure that the job gets done. We have a proven record of accomplishment in excellence. Our demolition contractor will handle your needs on a one-on-one level and ensure that your project is given the undivided attention it deserves.
We Offer Demolition Services in West Jordan, UT Fit for Your Needs
Industrial Demolition Services: This type of demolition service requires a surgical approach. We have a systemic, controlled and detailed solution in place for demolishing facilities such as chemical plants, manufacturing plants, port facilities, oil refineries, factories, and lumber mills among others.
Commercial Demolition Services: This type of demolition requires tact in working around obstacles. Our demo company is highly skilled in demolishing commercial structures such as hotels, retail spaces, office buildings, warehouses, bridges and airplane hangars among others.
Concrete demolition and recycling services: Our demolition experts are experienced in salvaging not only metal scraps but concrete structures and slabs as well.
Scrap Metal Demolition Services: As an all-around demo company, we can also take care of any unwanted steel erections and metal scraps onsite. We follow a certain procedure in salvaging items that are still good for future use so you can be sure nothing goes to waste.
Key Advantages Against Other Demolition Companies in West Jordan, UT
We take pride in deploying demolition experts and demolition contractors who are not simply knowledgeable on the job but also skilled and experienced all across the state. We are on a continuous path to success and we have managed to do this through perfection in our demolition services. Our demolition company is committed in service delivery. Our demo company offers packages that are reasonably priced as well due to the fact that we have mastered an efficient way of demolition that cuts unnecessary expenses.
Our Methods for Demolition and Deconstruction in West Jordan, UT
Explosive Demolition: Done by licensed demolition experts in West Jordan, UT, this method may sound dangerous and it could be when proper procedures are not followed. After explosives are strategically laid out, a switch is all it takes to completely take down a building.
Non-Explosive Demolition: Our local demolition contractors use a wrecking ball attached to a crane to knock down buildings. It is a cheaper and faster method unlike explosive demolition.
Selective Demolition: This is a type of demolition whereby building materials, part of the structure or building are separated and then sorted for the purpose of reusing or recycling. Our demo contractors have mastered the art of selective demolition that other building demolition companies do not have.
Common Equipment Used for Demolition in West Jordan, UT
Hydraulic breakers – Commonly known as hydraulic hammers, these are often used by our demo company to grind up slabs and concrete structures.
Wrecking balls – Attached to a crane, these heavy balls made of steel are used to weaken structures. They are swayed right into the building causing it to break and collapse.
Hydraulic shears and rock breakers – Used by specialists to cut through various materials such as concrete, metal, wood, and steel.
Bulldozers – A favorite among contractors, a bulldozer can be an intimidating piece of equipment on wheels although it is fairly easy to maneuver. It can be used to transport copious amounts of waste, as well as to wreck walls.
Dumpers – In the demolition business, dumpers are used to transport debris from the demolition site.
Cranes – In demolition, demolition contractors need a crane. Cranes can be used to lift a small-sized excavator. A wrecking ball can also be attached to a crane for demolition making it an essential piece of machinery in a demo company.
Crawler Loaders – They are effective in bringing down structures. They can also be used to clean up a demolition site. Crawler loaders can help move debris. Its tracks enable the unit to move easily and freely on the property.
We are the Number to Call for Premium Demolition Services in West Jordan, Utah
Avoid dealing with deconstruction hassles and overpriced bills when you sign with our demolition company in West Jordan, Utah. Signing with us means you deal with our highly diligent specialists who will never present mediocre work to our clients. Our demolition company is the West Jordan demolition and deconstruction company you have been looking for. Get in touch with the leading West Jordan deconstruction and demolition company. Give us a call at
(855) 885-3366
and we guarantee a refreshing customer experience that you can only get from us.
Zip Code Areas We Service in West Jordan
84088, 84081, 84084