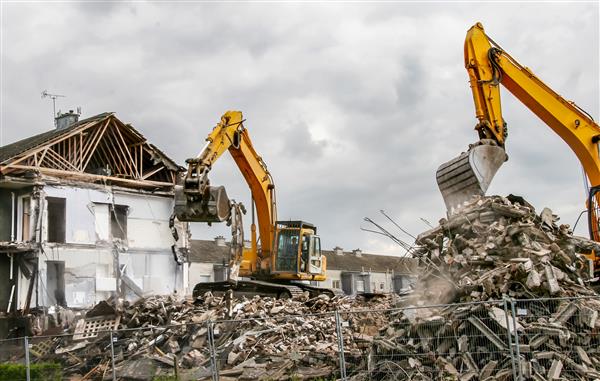 Guaranteed Superior Quality House Demolition in West Jordan, UT Only at Omni Demolition
Dangerous building cave-ins require quick attention from a seasoned house demolition expert in West Jordan, UT. We at Omni Demolition strive to provide the most cost-effective services among all the other local house demolition companies. Omni Demolition has many full-time employees; we own our trucks and equipment; and our residential demolition contractors are well trained and capable of handling any demolition job. We have been in business for many years providing exceptional customer service. We don't offer excuses; we just offer professional and timely demolition services guaranteed to fit your budget. Whether you require a simple mobile home demolition or a major residential complex levelling, you can enjoy superior quality services. Omni Demolition is here to assist you with your needs.
Home Demolition Techniques in West Jordan, UT
We make sure to create a comprehensive plan before we start a house demolition. Demolition methods include top-down deconstruction, crane, high reach arm, remote-controlled demolition, and implosion. You can hire our contractors to demolish an entire house or just a portion of it. Contrary to popular belief, there is an art to effectively destroying a building. With the help of our residential demolition contractors, you can tear down any type or size of building. Hire only residential demolition companies that have the know-how and technical knowledge to tailor their approach to your distinctive home demolition project. An inexperienced amateur demolition company can turn a simple mobile home demolition project into a large costly disaster. Using our lengthy experience in the industry, we can guarantee a smooth delivery of our services.
Getting a Home Demolition Evaluation in West Jordan, UT
House demolition costs in West Jordan, UT vary with the location and size of the property and may range anywhere from $8,000 to $15,000 or higher. Before you completely say yes to an offer, see to it that you check every factor involved. By examining the rates, you can check which among the different home demolition companies in the area offers the most competitive services. We pride ourselves in having one of the best teams of residential demolition contractors. Rest assured that our affordable mobile home demolition package includes everything you need to get a flawless finish. Don't put your fate in an inexperienced company. We will provide a complete breakdown of the costs and the package inclusive.
Residential Demolition Permits to Procure in West Jordan, UT
Reliable house demolition companies in West Jordan, UT such as ours will never let you run from pillar to post to obtain a demolition permit. However, you're required to pay the amount when there's no existing building permit. Other special inspections and documentation for your house tear-down or mobile home demolition may be asked from you depending on the state you are in. The first thing that needs to be done is to ask for the appropriate demolition permits and to establish any legal requirements necessary for the building to be demolished. Avoid incurring penalties and delaying your project by applying for the necessary permit. If you do not like project delays or building code penalties, we highly suggest applying for a permit beforehand.
Things You Must Prepare Before a Residential Demolition Service in West Jordan, UT
So you've made up your mind to hire a professional for your West Jordan, UT home demolition plan. The next logical step is to prepare your house for the demolition job. Assuming you have your demolition permit ready, what's the next move? A demolition contractor then starts the process with the removal of valuables from the building, such as the copper wiring; then follows the removal of materials like glass, asbestos sheets and other materials, which are considered to cause serious safety hazards during and after demolition. Getting a timeline is vital because all demolition projects, even mobile home demolitions, leave a huge mess, and a timeline will give you an idea when the demolition will actually take place and how long the entire process will be.
Instances That Call for Residential Demolition in West Jordan, UT
Several residential demolition projects arise from improving a newly bought piece of estate or cleaning up a landscape. Other factors that affect the durability of a building are environmental stressors like fluctuating temperature and sudden weather changes. More often it costs less to rebuild than to repair. For whatever purpose it may be, our company is here to provide you quality and expert residential demolition services in West Jordan, UT. Hiring the right company will ensure that you're happy with the end results.
Tools and Equipment Used for Residential Demolition in West Jordan, UT
The quality of the services provided by residential demolition contractors depends on two things-the experience of the team and the quality of their equipment. As such, when we perform a home demolition, we can efficiently pull out every bit of damaged material. Residential demolition applies to buildings and small houses which are no more than three stories. With demolition equipment such as trucks, loaders, tractors, wheeled tippers, concrete crushers and excavators, demolition can be done in just a matter of hours. The most popular among these is the wrecking ball, though safety explosives are also commonly used.
Call Us and Start Your Home Demolition in West Jordan, Utah Today!
We are a reliable residential demolition company with the equipment and expertise to get the job done on time. Our demolition company has been conducting partial and full demolitions for over a many years. Upon your request, we can hand you a cost estimate, and schedule your appointment as soon as possible. Our residential demolition contractors have been rated #1 in West Jordan, Utah. Guided by the standards set by the industry and our extensive experience, we guarantee to provide the service you deserve. We are only a phone call away for all your demolition needs.
Zip Code Areas We Service in West Jordan
84088, 84081, 84084